FACULTY PROFILE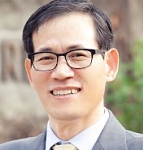 Jin Ki Hwang
CONTACT INFORMATION
EDUCATION
BA, Seoul National University
MDiv, Chongshin University
ThM, Gordon-Conwell Theological Seminary
PhD, Fuller Theological Seminary

Jin Ki Hwang joined the Fuller faculty in 2010 as assistant professor of New Testament for the School of Theology's Korean Doctor of Ministry (KDMin) program and became assistant dean in 2011. Hwang had previously served as the program's associate director and theological mentor since 2005, as well as teaching as an adjunct professor. He moved to the United States from South Korea in 1999, coming to Fuller shortly thereafter and completing his PhD in New Testament in 2006.
Hwang's current research includes exploring the self-identity of early Christians, as well as a book about the pastoral leadership of the apostle Paul as it can relate to Korean pastors. His "Mimesis" and Apostolic "Parousia" in 1 Corinthians 4 and 5: An Apologetic-Mimetic Interpretation (Edwin Mellen, 2010) is a study of Paul's calls to imitation and his self-understanding of his own authority. In addition, Hwang coedited Fire in My Soul (with Soonbong Choi and Max Lee; Pickwick, forthcoming in 2013), to which he contributed an article, and he is a translator of Romans and 1-2 Corinthians for The 21st Century Korean Bible.
He is a member of the Society of Biblical Literature, the Association for Doctor of Ministry Education, the Alliance of Scholars Concerned about Korea, the New Testament Society of Korea, and the Korea Evangelical Society of New Testament Studies. Since 2008, he has served as lead pastor for the English ministry at the Lord's Community Church in Hacienda Heights, California.
NS501 New Testament 2: Romans–Revelation
NT745 Biblical Theology of the New Testament for Pastors
NT747 Using the Greek New Testament in Ministry
NT748 Reading the Gospel of John in Greek
PM741 Theology and Practices of Pastoral Ministry in the Korean Context

PM748 Biblical Principles of Cell-Based Church Ministry
SP740 Paul's Spirituality and Pastoral Leadership
New Testament, Paul, leadership, spiritual formation, ecclesiology, rhetoric, letter-writing, Christian identity, use of the Old Testament in the New Testament