FACULTY PROFILE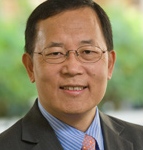 Hak Joon Lee
CONTACT INFORMATION
EDUCATION
MDiv, Princeton Theological Seminary
PhD, Princeton Theological Seminary (summa cum laude)

Hak Joon Lee joined the faculty at Fuller Seminary in 2011 as professor of theology and ethics. He came to Fuller with 17 years of teaching experience at New Brunswick Theological Seminary, Drew University, and New York Theological Seminary. He is an ordained Minister of Word and Sacrament in the Presbyterian Church (USA).
Dr. Lee's current research focuses on covenant, trinitarian ethics, and public theology in the global era. He has also focused much of his study on the ethics and spirituality of Martin Luther King Jr., and has been invited to be the keynote speaker for the celebration of Martin Luther King Jr. Day in several cities.
Lee has published several books, four in English, including Covenant and Communication: A Christian Moral Conversation with Jürgen Habermas (University Press of America, 2006), We Will Get to the Promised Land: Martin Luther King Jr.'s Communal-Political Spirituality (Pilgrim Press, 2006), The Great World House: Martin Luther King, Jr. and Global Ethics (Pilgrim Press, 2011), and Shaping Public Theology: The Max L. Stackhouse Reader (coedited, Eerdmans, forthcoming), as well as numerous articles and two books in Korean, Bridge Builders (Doorae Media, 2007) and A Paradigm Shift in Korean Churches (Holy WavePlus Press, 2011), which was awarded one of the most outstanding books in religion in the year 2011 by the Ministry of Culture, Tourism, and Sports of South Korea.
In 2007, Lee founded G2G Christian Education Center, a research institute on Asian American Christianity and culture, and published the first systematic curriculum for Korean-American youth: iDentity: A Curriculum for Korean American Christian Youth. Recently the Center received a grant to develop a comprehensive curriculum for Korean North American youth. In 2011 Lee delivered the Schaff Lectures at Pittsburgh Theological Seminary under the title "God and Globalization."
ET501: Christian Ethics
ET528: Creation Care and Sabbath Economics
ET543: The Theology and Ethics of Martin Luther King, Jr.
ET844/544: Covenant and Christian Ethics
ET846/546: God and Globalization
Christian ethics, Martin Luther King Jr., public theology, Reformed theological ethics, globalization, Asian American theology and ethics