FACULTY PROFILE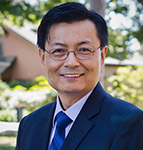 Enoch Jinsik Kim
커뮤니케이션과 선교 연구, 도시 선교 전략
ASSOCIATE PROFESSOR OF COMMUNICATION AND MISSION STUDIES
CONTACT INFORMATION
EDUCATION
BS, INHA UNIVERSITY IN KOREA
MS, INHA GRADUATE SCHOOL IN KOREA
STUDIES, CHINA CENTRAL MINORITY UNIVERSITY; CHINA LANGUAGE AND CULTURE UNIVERSITY IN BEIJING; XIAN PETROLEUM UNIVERSITY
MA, PhD, SCHOOL OF INTERCULTURAL STUDIES, FULLER THEOLOGICAL SEMINARY

A native Korean with nearly 16 years of employment and missionary work in China, Enoch Kim completed his PhD in Intercultural Studies at Fuller Seminary and then began teaching for Fuller as an adjunct. While continuing to serve China as a missionary of HOPE (Helping Overseas Professional Employment) in the Global Missionary Fellowship (GMF), Kim initiated the School of Intercultural Studies' Korean Doctor of Missiology Program.
Kim's ongoing mission service includes being a team coordinator in Frontiers Mission, a research associate in the Fruitful Practice Research Team, and a member of the advisory committee of the Korean Global Leadership Institute. From 2004 to 2011 he served as city director for JOY Mission in Xian, China. He founded the Cross Cultural Training Center (CCTC), served as its executive director (2003–2011), and taught courses on Muslim evangelism, mission theology, communication and strategy, acculturation, and anthropology, among others, to missionaries and representatives from a Chinese house church seminary. He has taught similar courses at other schools in Asia, as well as seminars at All Nations Church in Los Angeles.
In northwestern China, Kim was the field coordinator at Hope Mission and then the team coordinator for missionaries with Hope and Frontiers working with Muslims. His writings focus on Muslims in northwestern China, with articles published in Korean Missions Quarterly, International Journal of Frontiers Missions, and Missiology.
Download Dr. Kim's' CV, which includes a list of his current publications, here.