FACULTY PROFILE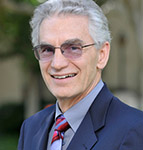 Sherwood G. Lingenfelter
사회/문화 인류학, 타문화권 리더십
PROVOST EMERITUS AND SENIOR PROFESSOR OF ANTHROPOLOGY
CONTACT INFORMATION
EDUCATION
BA, WHEATON COLLEGE
PhD, UNIVERSITY OF PITTSBURGH

Sherwood G. Lingenfelter retired as provost of Fuller Seminary on June 30, 2011, but continues to serve on Fuller's faculty as senior professor of anthropology. He joined Fuller in 1999 as professor and dean of the School of Intercultural Studies (then the School of World Mission) and served as acting provost in 2001 before being appointed provost in 2002.
Before his appointment at Fuller, he served as professor of intercultural studies and provost and senior vice president at Biola University, La Mirada, California, from 1983 to 1999, and professor of anthropology at SUNY College at Brockport, New York, from 1966 to 1983. He holds a BA from Wheaton College and a PhD in Anthropology from the University of Pittsburgh.
Lingenfelter's field research includes three years in the Yap Islands of Micronesia and short-term research projects with the SIL International in Brazil, Cameroon, and Suriname. He has served as research and training consultant to SIL from 1977 to 2007 in Papua New Guinea, Borneo, Philippines, Africa, and Latin America. He also contributes regularly to mission conferences and to missionary candidate training for other evangelical mission organizations. His publications on missions include Ministering Cross-Culturally (1986, 2003), Transforming Culture (1992, 1998) Agents of Transformation (1996), Leading Cross-culturally (2008), and Leadership in the Way of the Cross (2018). He also served as coauthor with his wife, Dr. Judith E. Lingenfelter, for Teaching Cross-Culturally (2003), and with Dr. Paul R. Gupta for Breaking Tradition to Accomplish Vision: Training Leaders for a Church Planting Movement (2006).