FACULTY PROFILE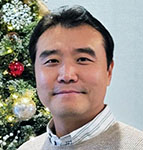 Yong Hwan Kim
CONTACT INFORMATION
EDUCATION
BA, Chong Shin University
MDiv, Chong Shin Theological Seminary
MA, Fuller Theological Seminary
PhD, Talbot School of Theology

Dr. Yong Hwan (Jake) Kim joined Fuller Theological Seminary in 2014 as a Theological Advisor of Dissertation and is currently serving as a member of the adjunct faculty of the Korean Studies Center at Fuller Theological Seminary.
Having majored in Christian education focusing on Family-based ministry integrating Church and Family, he developed his basic idea with Youth Disciple of Christ Fellowship (YDCF) which he served in South Korea, and has been organized through teachings of Dr. Chap Clark at Fuller Theological Seminary, mentoring of Dr. Kevin Lawson at Talbot School of Theology, and several Church ministries in the United States.
Kim is currently serving as an assistant professor of practical theology at Georgia Central University in Atlanta, GA. He served as a faculty member at Southern California Bible College & Seminary in El Cajon, CA and at Presbyterian Theological Seminary in America in Santa Fe Spring, CA. He is also currently serving as a senior pastor of Peacemakers Presbyterian Church (KAPC) in Suwanee, GA.
He was a member of North American Professors of Christian Education Conference (NAPCE) and Association of Youth Ministry Educators Conference (AYME).
Courses Taught:
Theological Advisor of Dissertation
PM709: Family-Based Ministry in Human Development Phases
Areas of Expertise, Research and Teaching: Christian education, Youth, Family, and Pastoral ministry