FACULTY PROFILE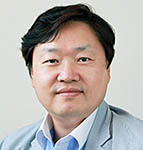 Chaeyong Chong
CONTACT INFORMATION
EDUCATION
BA, Yonsei University
MA, Yonsei University
PhD, Yonsei University

Chong's research interests lie in the problems of the institutionalization of Church. He has researched and written books on the phenomenon of the Canaan Believer. Recently, he has written a book on the non-institutionalized church. He has participated in developing various statistical surveys of the Korean church.
SELECTED BOOK PUBLICATIONS IN KOREAN
Sociology of Small Groups. Handle Press, 2010.
The Understanding of Sociology of Religion for the Korean Church. Yeolin Press, 2012.
The Korean Church and Ten Years After. SFC Press, 2012.
Christians Who Don't Go To Church. IVP, 2015.
Villages and Churches That Live Together. SFC Press, 2018.
Forced Poverty. Iraeseowon, 2019.
A Continuing Challenge: The Growing Number of Non-institutional Churches. SFC Press, 2022.
COURSES TAUGHT
Graduate School of Practical Theology, all courses taught in Korean
Master's Level Courses

Small Groups in the Korean Church




Advanced Degree (Ph.D.) Courses

Theory of Sociology of Religion

Contemporary Sociology of Religion

Church and Society in Korea