FACULTY PROFILE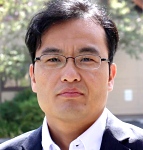 W. Gil Shin
CONTACT INFORMATION
EDUCATION
BS, Sungkyunkwan University
BA, Hankuk University of Foreign Studies
MDiv, Westminster Theological Seminary (PA)
PhD, Fuller Theological Seminary

W. Gil Shin joined the Fuller Seminary's faculty as the instructor of New Testament Greek and now serves as the program manager of KDMin/DMinGM/MAICS programs.

Shin's research interest includes the NT use of the OT, restoration eschatology in Luke-Acts, and ancient Jewish spatiality. His selected publications include:
The "Exodus" in Jerusalem (Luke 9:31): A Lukan Form of Israel's Restoration Hope

(Biblical Interpretation Series; Brill: Leiden, 2022)

CEB Gospel Parallels

(with Joel B. Green; Nashville: Abingdon, 2012)
"Holy Land Purity for Every Greco-Roman City: Rethinking the Lukan Apostolic Decree (Acts 15:19-21) from a Combined Perspective of Intertextuality and Spatiality

," JBL, forthcoming.

"The Ambivalence of Jerusalem in Luke-Acts: The Limitations of Dyadic Approaches, and a Test of a Sojan Model of

Thirdspace

for Acts 7,"

BBR

, 32 (2022): 41-66

"The Double Entendre of Paul's Trade as

Σκηνοποιόϛ

(Acts 18:3): Working for Israel's Restoration in the Greco-Roman World," NovT 64 (2022): 36-53

"Internarrativity and

Ecce Homo

: A Masterplot underlying Zech. 6.9-15 and 1 Sam. 9.1-11.15 and Its Function in Jn 19.1-16,"

JSNT

43 (2020): 194-213

"Integrated Stories and Israel's Contested Worship Space: Exod 15.17 and Stephen's Retelling of

Heilsgeschichte

(Acts 7),"

NTS

64 (2018): 495-513.
Courses Taught:
LG512 Introduction to New Testament Greek
NT500 New Testament Introduction
NS740 New Testament Background for Preachers
NT744 Narrative Interpretation for Developing Biblical Theological Content
DM 748 Final Project Research Methods and Proposal