FACULTY PROFILE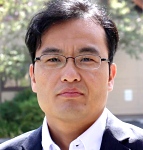 W. Gil Shin
CONTACT INFORMATION
EDUCATION
BS, Sungkyunkwan University
BA, Hankuk University of Foreign Studies
MDiv, Westminster Theological Seminary (PA)
PhD, Fuller Theological Seminary

W. Gil Shin joined the Fuller Seminary's faculty as the instructor of New Testament Greek and now serves as the associate chair of Korean Doctor of Ministry (KDMin) program.

Shin published
CEB Gospel Parallels
(Nashville: Abingdon, 2012) together with Dr. Joel B. Green. He published journal articles such as "Integrated Stories and Israel's Contested Worship Space: Exod 15.17 and Stephen's Retelling of Heilsgeschichte (Acts 7)," NTS 64 (2018): 495-513; "Internarrativity and Ecce Homo: A Masterplot Underlying Zech. 6.9-15 and 1 Sam. 9.1-11.5 and Its Function in Jn 19.1-16,"
JSNT
(forthcoming). He is currently working on publishing his doctoral dissertation.
Courses Taught:
LG512 Introduction to New Testament Greek
NT500 New Testament Introduction
NS740 New Testament Background for Preachers
DM 748 Final Project Research Methods and Proposal (co-teaching)