FACULTY PROFILE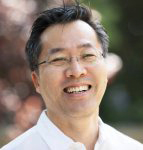 Euiwan Cho
Christian Ministry, 종교사회학, 영성
CONTACT INFORMATION
EDUCATION
BA, Yonsei University
MDiv, PhD, Southern Baptist Theological Seminary

Euiwan Cho joined Fuller Theological Seminary in 2012 and is currently serving as Program Chair for the School of Theology's Korean Doctor of Ministry Program as well as associate professor of Christian ministry. Having majored in Church and Society, he specializes in the sociology of religion and spiritual formation and their implications for holistic ministry in the Korean/Korean-American context. In his book iChurch and Seven Deadly Sins (in Korean, 2012), Dr. Cho analyzes consumer-Christianity and emphasizes the need to pay attention to the voice of fourth-century desert spirituality.
Cho previously served as director for Korean Doctor of Ministry Program and as a faculty member at Luther Rice University/Seminary in Atlanta, Georgia. He also served as senior pastor of Knoxville Korean Baptist Church in Knoxville, Tennessee, for six years.
He is a member of the American Academy of Religion and the Society for Pastoral Theology.
Courses Taught:
TM742: Desert Spirituality and Urban Ministry in the Korean Context
TH740: The Sociological Study of Religion and Its Implications for the Korean/Korean-American Context
PM741: Theology and Practices of Pastoral Ministry in the Korean Context
TM743: Missional Churches and Leadership in the Korean Context
IS502: Practices of Community
Areas of Expertise, Research, Writing, and Teaching:
Pastoral ministry, Consumerism, spiritual formation, sociology of religion, holistic ministry, (new) monasticism, urban ministry
Publications:
iChurch and Seven Deadly Sins (Daejeon: Daejanggan, 2012) (in Korean)
John Howard Yoder, He Came Preaching Peace, Korean Translation (Daejeon: Daejanggan, 2013)